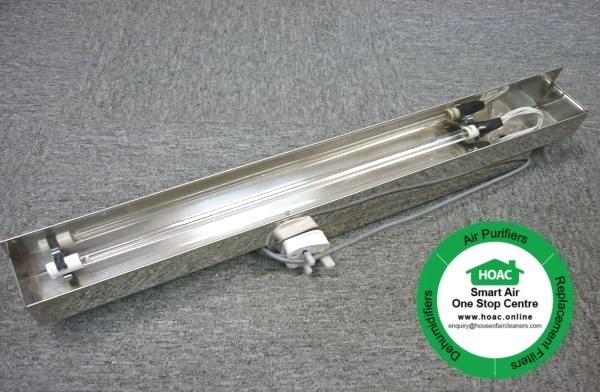 Krystal Air Ozoniser III (H)
SKU OZONISER-III
Product Details
Krystal Air Ozoniser III (H)
Ozone is very possibly the most powerful and effective eliminator of smoke and odors. Ozone Eliminates odor and tobacco smoke, its impurities or Phenol gasses, and odors from cooking, pets, mold, mildew and often the sources of household odors. Disinfecting and purifying with ozone provides a much healthier home, atmosphere and environment.
How does Ozoniser III (H) Works:
Our advanced oxidization process begins when UV light bands react on hydrated, quad-metallic, compound targets. These reactions produce friendly oxidizers, including hydro-peroxides, super oxide ions, ozonide ions, and hydroxides. These oxidizers then purify the air by oxidizing, or neutralizing, the pollutants, and then become oxygen and hydrogen molecules.
What can the Ozoniser do?
Completely eliminates odours from public toilette smell, butchery, pet urine, heavy cigarette and cigar smoke, mold and fungus, cooking odour, hotel room sterilizer, refuse chamber, water treatment plant, food sterilizer, and general applications.
Completely eliminates odours from fire and smoke damage, and water and flood damage.
Application:
Odor control for sewage plants
Cigarette and cigar smoke removal
Building cleaning service
Commercial and catering grease and odour elimination
Special Features
Compact, light unit with dimension 700mm (W) x 70mm (D) x 80mm (H) and 2.5 kg in weight
Ozoniser use a germicidal UV-C lamp that produces the most effective odor killing ozone that ultraviolet technology
Ozoniser are assembled and design with corrosion resistant stainless steel
The Ozoniser III are suitable for strong odor problem application
One year against manufacturing defect subject to proper installation
Product Specification
| | |
| --- | --- |
| Brand | Krystal Air |
| Model | Ozoniser III (H) |
| Dimension (L x W x H mm) | 700 x 70 x 80 |
| Emitted radiation wavelength | 184 Nm |
| Coverage area Up to (sq.ft) | 1000 |
| Mode of Mounting | Induct |
| Ozone Output (g/hr) | 2.5 |
| Ozoniser light life span (Hrs) | 1 pcs x 9000 |
| Electrical: 230V/1Ph/50Hz (W) | 40 |
| Net weight | 2.5 kg |
| Housing / Bracket | Stainless Steel |
| ReplacementUV tube | G40H-495 |
| Warranty | 1 Year |
| Installation | Not provided |
For inquiry, please drop us an email at enquiry@houseofaircleaners.com
Our operation time is Monday to Friday from 8.30 am to 5.45 pm
Save this product for later